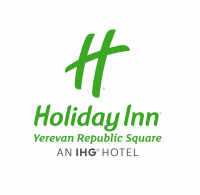 Holiday Inn Yerevan Republic Square
Holiday Inn Yerevan Republic Square Hotel is the first IHG's managed hotel in Armenia. It will have 191 rooms, several restaurants, cafes and bars, 475 sq. m of 7 meeting rooms, 1485 sq. m of fitness center and spa, shops, beauty salon, underground parking etc.

IHG is one of the world's leading hotel companies with 17 leading brands; nearly 5,600 hotels in more than 100 countries around the world. Holiday Inn brand opened the doors of its first hotel in 1952 by Kemmons Wilson in Memphis, US and today the Holiday Inn Brand Family is one of the largest hotel brand in the world, with the largest development pipeline.

We passionately believe that it's our people who make us what we are today, and it's our people who bring to life our purpose of providing True Hospitality for everyone. That means making everyone feel welcome, cared for, recognized and respected, and going the extra mile to create special guest experiences and lasting memories.
Company statistics
Benefits
Insurance

Trainings

Competitive Salary

Business Trips

Discount programs

Professional Growth

Bonuses
Openings
Բարմեն

մատուցող/մատուցողուհի

Ապրանքների Ընդունման Պատասխանատու

Գնումների և մատակարարման բաժնի աշխատակից

Engineering Supervisor

Տնտեսական բաժնի տղա աշխատակից

Հանրային տարածքների սպասուհի

Սենյակների սպասուհի

Լվացքատան աշխատակից

Դռնապահ-Բեռնակիր

Հեռախոսի օպերատոր

Ընդունման բաժնի աշխատակից

Reservations Agent

Sales Executive

Front Office Night Supervisor

Events Coordinator

Bartender